About the project Cursa
The site and the application was developed with the goal of helping people find free courses more easily, because there are many good and free content, but many people are not aware of this.
Common questions
About the Certificate
How to issue a valid certificate of a free course?
After completing the free online course on our website, you must download the Cursa app from your app store, click on the menu, click on Certificates, select the courses you want in your certificate and click on "Send to my email ".
Can I put a professional-level free online course on my resume?
Yes, one suggestion is to put it as follows (Example):
Course: English with teacher John
Working hours: 43 hours
Institute: Application Cursa ( Google Play / App Store )
Are certificates for an online course valid and recognized in my country?
Overall, online courses are recognized as a fully valid form of learning. However, there are certain courses that require face-to-face learning, such as courses in the health area. Also research your country's legislation regarding the course you want to study.
Can I print the certificate? How to sign and print the certificate?
After receiving the email containing your digital certificate of the online course, save the image (photo) of the certificate on a flash drive or on your cell phone and take it to a printer or stationery store so they can print it. Also remember to keep this certificate image file in a safe place so it doesn't get lost.
After the course certificate is printed, you sign it in the right place and then you can even frame your online course certificate.
I'm watching the course videos and it still doesn't count time on the certificate, what's going on?
To count time in the certificates, you must watch the videos until the end, that is, you cannot skip to the next video manually, you have to wait for the application / website to do it automatically to count more time for the course being watched in your certificate.
How can companies / institutions / schools verify the authenticity of my certificate?
If someone wants to verify the authenticity of their certificate, that is, check if the user has actually taken the courses, just scan the certificate's QR CODE or access https://cursa.app/en/my-certificate or click here, enter the code found in the lower right corner of the Certificate and click on 'Check'.
What is the model of the certificate that I will receive by email and in the photo gallery on my cell phone?
Below is a copy of a free Cursa online course certificate that is issued for free by our platform. Remembering that it is necessary to download the Cursa application to issue your valid and free certificate, download the application at Google Play clicking here or at App Store ( Iphone ) clicking here.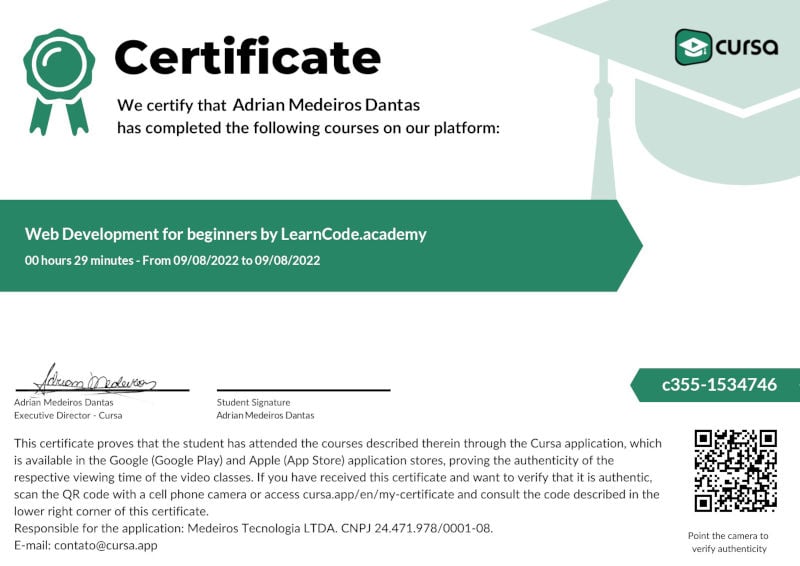 About the Courses
Are free online courses reliable?
Yes, but it depends on which platform you are taking these courses on, here at Cursa, for example, we are able to offer free courses with certificates that are also free because we are monetized through the advertisements that are displayed in our application.
Can I get a job by taking a free online course?
Yes, you can, as long as you have acquired the necessary knowledge to perform a certain function. Being restricted only to functions that require higher or technical courses, such as courses in the health area.
How do I sign up for a free online course?
It's simple, just register on the Cursa platform by clicking "Sign up, it's free", then just choose a desired subject to study and learn for free.
I can't complete the course, what's going on?
It may happen that some courses lack videos due to the teacher having taken off the air, and this makes it impossible to beat 100% of the percentage. But do not worry, as this percentage does not appear on the certificate.
I'm a producer of Courses
I want to remove my course from the platform. How to proceed?
Access the chat and use the contact form to inform us. If your course was selected to be here, it is because it has great content and is very relevant for those who are unable to pay for a course. In addition, you get a unique URL from your profile and with your social networks, which can increase your number of followers.
I want to put my course on the platform. How to proceed?
You must create a playlist on Youtube with the videos of your course and then send us the link, after that, we will analyze the content to put it on the platform.
To get in contact with us, use our
Chat
* By registering or using the site you agree to our Terms of use